Probably close to 800 years old, this beautifully renovated property, located on a quiet residential square in the centre of Cortona, was once known locally as the priest's house, probably because it is close to the Convent of Santa Chiara. Purchased in 2007, the renovation took three years to complete and though the original historic exterior has been maintained, the current owners have created a stunning light- filled modern interior whilst respecting traditional structural methods and materials.

On three floors, one of the main features is the Italian made open staircase that is modern, dramatic and illuminated by a skylight.

On the ground floor there is an entrance hall, a sitting room with the aforementioned staircase, a kitchen and a dining room. Both the sitting and dining rooms have direct access to the garden.

The first floor has a bedroom, a bathroom, a hallway and a study. The layout is such that the study can become an additional bedroom if need be; this is due to the clever placement of doors that render the bathroom common to both rooms if necessary. The bedroom suites close off with frosted glass doors that allow the light to disperse. The second floor is an exact duplicate of the first.

The south facing private garden and terrace area wraps around the property in an ?L? shape. An external space of this size is a rare commodity in Cortona; especially one of this size.

Situated in what is often considered to the best part of historic Cortona, the area is very peaceful and quiet with great views. A wonderful selection of restaurants, bars, shops and museums are a mere five minute walk.
EPC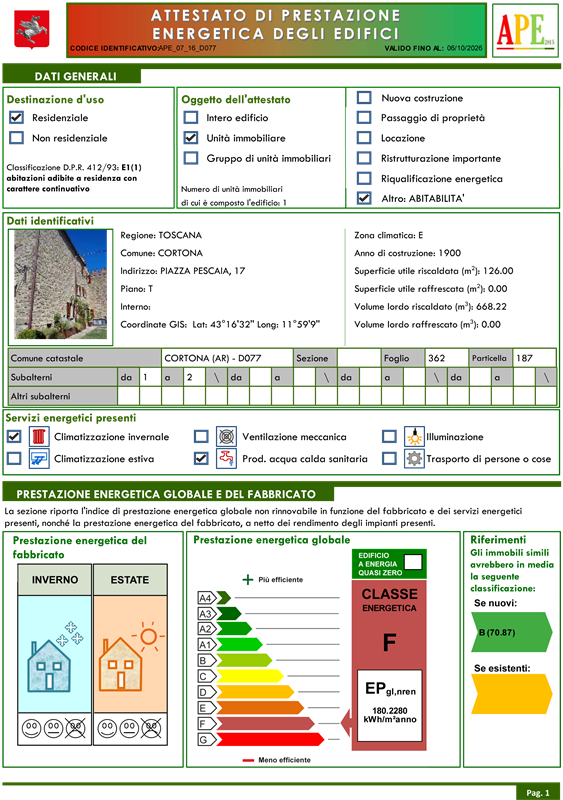 Other properties you might be interested in