Published: 31/10/2019
By The Abode Team
All Saints Day is special day on which Catholics celebrate all the saints, known and unknown. While most saints have a particular feast day on the Catholic calendar which is usually, though not always, the date of their death. Not all of those are observed and saints who have not been canonized - those who are in heaven, but whose sainthood is known only to God - have no particular feast day. All Saints Day is their day.
All Saints or Tutti Santi here in Italy, is celebrated on the 1st of November and is a holy day of obligation when Catholics attend mass. It's an old feast which arose out of the Christian tradition of celebrating the martyrdom of saints on the anniversary of their martyrdom. When martyrdoms increased during the persecutions of the late Roman Empire, local dioceses instituted a common feast day in order to ensure that all martyrs, known and unknown, were properly honored.
The current date of November 1 was instituted by Pope Gregory III (731-741), when he consecrated a chapel to all the martyrs in Saint Peter's Basilica in Rome. Gregory ordered his priests to celebrate the Feast of All Saints annually. This celebration was originally confined to the diocese of Rome, but Pope Gregory IV (827-844) extended the feast to the entire Church and ordered it to be celebrated on November 1.
All Saints Day is followed by All Souls Day on November the 2nd the day on which Catholics commemorate all those Holy Souls who have died and are in purgatory being cleansed of their sins so that they can enter into the presence of God in heaven.
As is usual particular foods are prepared at this particular time of year so, if you like almonds you should be sampling
Favi Dei Morti
– which are delicious crunchy (supposedly bone-like) little biscuits which are generally bean-like or oval in shape. Here's a recipe to try;
Ingredients;
150 gr of ground almonds
100gr of all-purpose flour
120 gr of granulated sugar
25 gr of softened butter
2 beaten egg
1 tblsp of grappa
Zest of one lemon
A pinch of salt
Method;
Combine all of the dry ingredients in a bowl then add the lemon zest, butter and the egg. Mix well until it all comes together as a dough and work in the grappa until smooth. Divide the dough into two and roll each bit into a sausage shape of about 4 cms in diameter. Wrap the dough up in greaseproof paper and leave to rest in the fridge for about at least half an hour. 2-3 hours is better!
Heat the oven to 175 c and grease and flour a cooking tray.
Remove the dough from the fridge and lightly flatten each 'sausage' before slicing into even sized pieces about 50 mm thick.
Baked for 15 -20 minutes until they are golden brown and leave them to cool. They
should
look a little like this;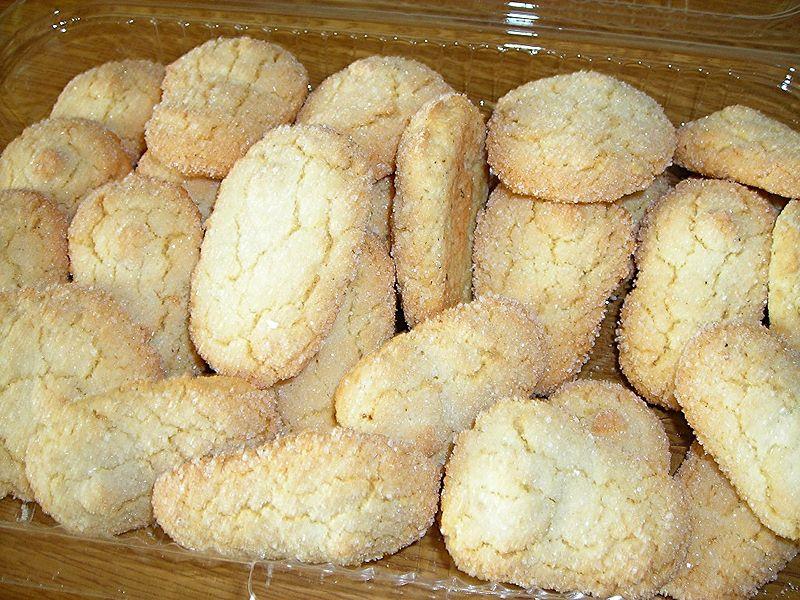 if not, they can be bought!