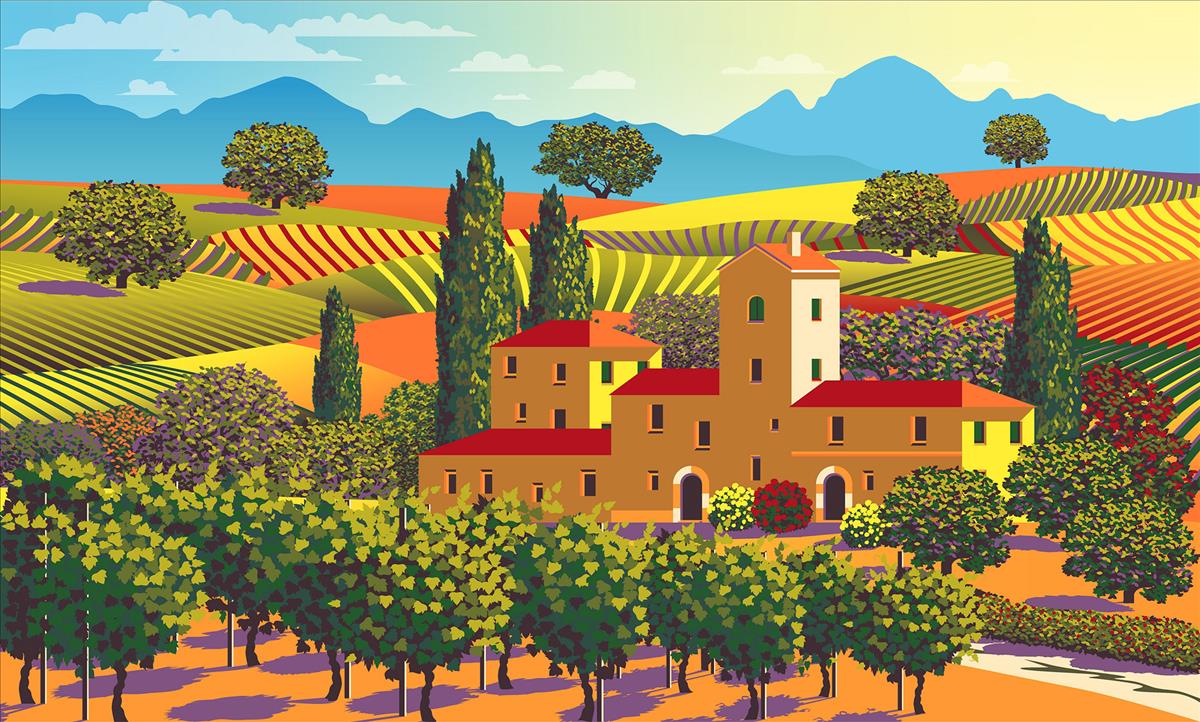 Abode Testimonials
Don't take our word for it. See what our clients are saying.
"Supremely Grateful"
"Having just purchased a beautiful Umbrian villa in a stunning location at a fantastic price, we unreservedly recommend the services of the team at Abode - Nick, Paul and Carla. Nick provided an incredible service right from the outset, he was the only agent to pick up the phone on initial contact and to ask searching questions rather than rely just on our emailed scope. We viewed a total of over 40 properties throughout Umbria and Tuscany with many different agents. Nick stood out as one who genuinely tried to identify what we wanted, not just trying to sell us what he had on his books. Throughout the visits he consistently helped us to refine, adapt and amend our requirements. This was achieved through constructive challenge and advice based on his unrivalled knowledge of the local sales and holiday rental markets, and then used to identify the ideal properties to view.

Once we had set our hearts on "the one", Nick went on to negotiate a cracking deal for us -for the bargain hunters out there we should just have said this first! That said, he knows that a deal needs to work well for both sides which is exactly the result he achieved. However it didn't just stop there as Nick, together with Paul and Carla, then helped us to navigate an exceptionally complex and protracted purchase process. This is where the team really impressed and more than earned their fee - working tirelessly and seamlessly, bringing wide ranging skills to bear to keep it all on track. When legal issues threatened to derail the deal, the team was able to provide exceptional guidance to find a way through. At every point, they were on hand to give great advice and to maintain momentum, even helping to ensure utilities remained connected on completion.

We cannot recommend the Abode team highly enough - professional and commercial, knowledgeable and understanding, prompt in response, artists of negotiation and ultimately totally effective. All delivered with unrelenting energy and good humour! Right at the outset Nick had said "If you really want it, then I will definitely find a property for you, it's simply a case of working out which one…" We are supremely grateful to Nick, Paul and Carla for helping to make our dream a reality - buying the one property that exceeded our expectations – a perfectly restored Umbrian stone farmhouse with huge depth of character in a simply magical setting."
"Our praise for Victoria Greenwood"
Our praise for Victoria Greenwood and the entire staff of Abode cannot be high enough. Being quite familiar with the buying processes in Malibu, California and the South of France, we did quite a bit of research on real estate agencies in Italy. Abode stood out as offering exceptional services and they did not disappoint. Not only did Victoria and Nick Ferrand show us lovely properties under their contract, but Victoria did detailed research on properties we had found online, which were not under Abode's purview. Victoria found the google maps for each property we had selected, as well as spoke with their respective agents, sent us additional information on the respective properties, set up appointments and sent us the directions to each property. Once we had selected « the » property we wished to purchase, Victoria, did extensive research for us and negotiated a price, which exceeded our expectations. The exceptional customer services extended to: Paul Cleary obtaining our italien fiscal codes; Victoria dealing with the Architect who built the house; Victoria recommending and arranging an independent architect to inspect the property; and Victoria arranging for us to make one transfer to the Notaire for the final payment (versus several payments for taxes, transfer fees, etc.). Victoria also translated all the documents into English for us and accepted power of attorney, so we didn't have to make several trips to sign papers. In addition to all the above, Victoria arranged for us to easily open an Italian bank account and forwarded our documents to the bank, thus the process was painless and seamless. On the day of the signing, joined us at the Notaire's and verbally translated all the documents, as well as conversations between the parties present. The signing process was extremely quick and easy. After the property purchase was completed, Carla Rossi oversaw the changing of the utilities into our names. Throughout the entire process, Victoria kept us thoroughly updated and went out of her way to research and answer all of our questions, always comprehensively and cheerfully. Needless to say, we are entirely besotted with Victoria and all of the Abode team. Having previously bought luxury properties in deemed « exclusive areas », the service we received from Victoria and Abode was far and above what we have ever experienced. Thank you Nick, Victoria, Paul and Carla. Because of you, we are happily on the way to the next exciting chapter of our lives.
Daniel and Denise Villefort
"They are a remarkable team and we cannot thank or recommend them highly enough"
We discovered 'Abode' almost by accident ! It was during the March lockdown while casually scrolling through internet sites that an Interesting holiday property in Umbria popped up. Italy was not on our radar at all but a closer look at the 'Abode' site peeked our interest . An email to Carla for more information started a flurry of interest and after a couple of very helpful phone calls , combined with the easing of travel restrictions in Europe a road trip to Tuscany and Umbria was set in motion ! From our arrival at the ' Abode ' office to our departure five days later , we were shown a selection of properties and at the same time given incredibly valuable information about living in Italy. After the first day it was like meeting friends rather an agent with questions answered freely and advice given on every aspect of each property and living in Italy . We were also put In touch with alternative agents who might have had the property we were finally looking for . At the end of the trip we had found the ideal property ,and a holiday cottage had morphed into a permanent residence up a mountain ! We have been so impressed with 'Abode' it's difficult to give them all the accolades that they deserve . The team and especially Carla have looked after us unreservedly and helped us through every stage and process . The service they offer is well beyond any other agency we have encountered over many moves in many countries . The communication is excellent between agent, purchaser and vendor , there is no pressure to buy and your hand is held at every stage before and after completion of sale . They are a remarkable team and we cannot thank or recommend them highly enough .
Bob & Nikki October 2020
"Dependable and Trustworthy"
"We have purchased a stunning Tuscan property in the Niccone Valley area through Paul Cleary and the Abode Italy team. Living over 1,000 miles away it's critical that we can depend on our real estate agent. Paul not only worked diligently to get us the best deal within our budget, and our desired area, but guided us expertly through the Italian purchase process, through completion and beyond! Abode have been totally dependable and trustworthy in every respect, so much so that we have now entrusted them to manage our renovations. Carla has gone on to help us with the on going management of our property, including Internet, utilities, bank account and handled things with a level of professionalism that gives us real peace of mind.

There's no doubt that as we manage our beautiful Italian home from the UK that Abode will continue to be involved!"
"Did Not Disappoint!"
"As a fellow professional working in a number of international markets, I have come to expect a high level of service from individuals and organisations, and Abode certainly did not disappoint! After having spent several fruitless years trying to find a home in Umbria, turning to Abode for help quickly resulted in the identification of a property which went some way beyond my expectations. In addition to guiding me through the entire acquisition process, they also arranged for post contract maintenance, ranging from house cleaning to swimming pool and garden maintenance, all of which has allowed me to derive maximum enjoyment from the property, without the usual headaches associated with the acquisition and ownership of an overseas property. I would have no hesitation in recommending Abode for their highly professional, friendly and courteous approach to every aspect of acquiring and owning a property in Italy.."
"Will definitely be coming back to Abode for our next property"
We purchased our Italian property through Abode in 2018. From the first contact with Carla through to now, a couple of years on, their help and support with our property and life in Italy has gone above and beyond. During the purchase process, Abode were very knowledgeable and experienced, which meant that it all went through pretty seamlessly. The whole team are super friendly and helpful, before and way after you have purchased a property from them. We plan to move to Italy permanently in the future and will definitely be coming back to Abode for our next property."
Rami and Olly Aujla-Betts
"A Pleasure to Deal With You"
Lieber Nick, lieber Paul, nach verschiedenen vergeblichen Versuchen, unser Haus in der Toskana zu verkaufen, wurden Sie und Ihre Mitarbeiter uns empfohlen. Mit Ihrer pragmatischen Herangehensweise - was die Dokumentation des Objektes betrifft-, Ihrer realistischen Einschätzung der möglichen Käufer und mit der Hilfe Ihres Netzwerks haben Sie den Verkauf des Hauses in sehr kurzer Zeit erfolgreich vollzogen. Dafür sind wir Ihnen wirklich dankbar. Mit vielen Grüßen Ihre Udo und Gisi.
Udo and Gisi von Klot-Heydenfeldt
"Altijd Prettige Samenwerking"
"Beste Nick Ferrand,

Hoe is het met je? We willen je bij deze nogmaals graag bedanken voor de altijd prettige samenwerking en de goede service en die je ons altijd hebt gegeven. Ook de aftersales was bij jou altijd optimaal. Als was het met de aankoop, verbouwing en de latere verkoop van ons huis. Zoals je weet, zullen we dan in de toekomst weer graag gebruik maken van je diensten en de prettige manier van omgang met ons. De hartelijke groeten van, Wendy & Frits Meijer.."
"The founder, Nick, and stellar team, Paul, Victoria and Carla, have been extremely helpful throughout the entire process."
I cannot recommend Abode enough. The founder, Nick, and stellar team, Paul, Victoria and Carla, have been extremely helpful throughout the entire process. If the countryside of Umbria is not enough to win you over, then I strongly encourage you to have a meeting with Abode. Honestly, we fell in love with Umbria even more after meeting them. They give you a sense of peace of mind, assurance, and trust. Qualities you need from a real estate agency when buying a property anywhere in Italy. Purchasing a home in Italy is never easy, and we've learned that moving in is not any easier. Abode has been there for our family through the ups and downs, going above and beyond to make sure that we are comfortable in our new home.
Nolan and Melinda February 2021
"Complete Mastery of the Details"
"We have recently sold our house in Cortona using the services of Abode Srl and we would not hesitate to thoroughly recommend this agency to anyone buying or selling property in Italy. The process by which property changes hands in that country can be very confusing to an English person, but at every stage Paul Cleary showed a complete mastery of the details and constantly kept us up to date on what was happening. Paul was available at all times and was always patient and polite in his dealings with us. He was able effficiently to handle the negotiations with the purchasers and to bring the deal to a successful conclusion.

After the sale the process of paying our final taxes and utility bills proved more complicated than we had envisaged. However Carla Rossi in the Abode office proved very competant at finalising these matters for us. Indeed we have to say that she went out her way to explain what was necessary and to make sure that money found its way to the right place.."
"Abode Stood Out"
"As an English-speaking buyer living in London I needed an agent I could trust to not only satisfy my brief but also navigate the language, legal and financial vagaries of buying a property in Italy.
Abode stood out for several key reasons:

1. Both Paul and Nick - the co-founders - are British ex-pats who relocated to Tuscany & Umbria, so have first-hand experience of the challenges and pitfalls of buying a property in a foreign country as well as speaking fluent Italian!

2. Their website was by far the most professional and easy-to-navigate. Importantly www.abodeitaly.com has the distinction of featuring high quality images of all the properties on their books; an essential prerequisite for any long-distance buyer.

As a partner of an international law firm my time is short, so Paul arranged for me to view eight properties in one day. All met my brief but the last property was the one for me. I completed earlier this year. As well as handling negotiations with the vendors, and guiding me through the legal and financial process, the Abode team (led by Carla) are now key-holders to my property and are helping me to select the local suppliers needed for some all important finishing touches. I can personally vouch for the quality and professionalism of their services."
"Very Helpful in Taking Care of Details"
"After having found a couple of great properties to visit, Nick Ferrand at Abode took us out to see another property which he thought was something for us. After that visit every other visit was compared against this first one and none could measure up to it. Nick certainly understood what kind of people we were and what we had in mind. He is a very good negotiator working for both the seller and buyer. This is seen from the view that we ended up with the house very happy for the (low) price reached. And also from the view that the sellers seemed happy for the (high) price reached. From reaching the final price and to closing of the deal, Nick and his team have been very helpful in taking care of details. That's indeed valuable being foreigners in a new country. Every time we had a problem Nick was the one we called to fix things. Our buying of a house in Italy working with Abode has been a pleasant experience. We recommend family and friends interested in a house in Italy to get in contact with Nick. If ever trading up we certainly know who to call.."
"Overflowing With Gratitude"
"Dearest Aboders in Italy,
Nick and I are so immensely grateful to you all for making our new future possible. When I was asked how we found our new home I replied "with an angel". We are very happy indeed and feel so taken care of on all levels; to say I'm overflowing with gratitude and humility is an understatement. We are very much looking forward to being your Umbrian neighbours and learning from you the delights of Italian life and living. Thank you all for everything, your love, support, guidance and decency. I will always remember Nick (Ferrand) saying on the phone when I was in Pienza "what are you doing there? You need to be in Preggio? and Victoria's "I will find your home". Then to meet Carla and Paul and find just how professional, delightful and reliable you all are has been really inspiring.
We will see you very soon, with all our love, blessings, gratitude gracefully."
"Holding Our Hands Every Step of the Way"
"The Abode office sign looked warm and welcoming. Parking was easy, so we stopped and walked in. We had the good fortune of being greeted by Carla Rossi, our Italian dream maker. She patiently educated us and helped us understand how to achieve our goal of owning the perfect home in Italy.

The whole Abode team pitched in and helped us smoothly navigate the purchase process, holding our hands every step of the way. The team is a tight knit group, very well respected in both the Italian and expat communities. Do yourself a favour and drop in. There won't be any pressure and you'll be glad you did.."
"Attentive and Caring to Our Needs"
"When we first met with your firm it was in 2009, you were kind enough to spend some time with us for two days showing us all the available properties in Tuscany and Umbria. Your team was attentive and caring to our needs. We did not decide that summer due to unfortunate circumstances in the family. We returned however in 2014 and again your team had the patience and the drive to show us around various properties and give us all the time we needed. You guided us on the various technicalities in relation to the property purchase.

We now have a lovely house which we are very proud of and a big thank you for your assistance in concluding the purchase almost a year ago."
"Always Efficient"
"I am English, and live in London. I recently purchased a house in Umbria, Italy with the help of the Real Estate Brokerage Company, ABODE, located in Perugia.I worked primarily with Nick Ferrand of that company, who showed me a number of properties. I started viewing properties in the area around Perugia during my summer holidays. Nick very quickly understood my requirements, and did not waste my time by showing me properties that were unsuitable. Indeed, when the right property came on the market for me, he immediately told me 'I have found the perfect house for you!' He was right. I actually bought it the first day that I viewed it. That day, we negotiated the price, came to an agreement, and the property was taken off the market.
From that moment, the contract was completed and signed within three weeks, and the 'closing' took place a month later. Everything went smoothly and efficiently, without a hitch. Nick and his associate, Paul, managed the arrangements with the Notary, and throughout the legal and financial dealings, they were supportive and very well informed. I, on the other hand, had no experience in purchasing anything in Italy, did not speak Italian, and so was completely ignorant and totally dependent on their advice. Their recommendations were always fair and sensible. They were helpful throughout.

Following the 'closing'. Nick offered the services of their office associate, Sonia Tardetti, to help me settle into the house efficiently and smoothly. She arranged the connection to all the local utility companies, and the transfer of everything into my name and the direct debit arrangements with my Bank. Although Sonia is Italian, her English is exceptional, so I understood everything, as did she. This was incredibly helpful.
Contrary to anything I have ever heard or understood about purchasing a property abroad, particularly in Italy, I have to say that this entire experience was astonishingly easy, and very pleasant, thanks to the support and effectiveness of Abode.

The personnel at Abode were always available, always efficient, and also, a lot of fun to deal with. I could not recommend Abode more highly."
"I am grateful for the expertise and professionalism we enjoyed while purchasing our new home."
For those who may be intimidated by the process to purchase a home in Italy, my husband and I feel lucky to recommend Abode. Carla, our Real Estate Agent and Closing Concierge, provided a seamless and stress-free experience. Her intuitive handling of our property search matched us with numerous options. Upon choosing the right property, Carla thoroughly prepared us for the process to purchase. Her frequent updates kept us informed throughout and the closing was pleasantly simple. I am grateful for the expertise and professionalism we enjoyed while purchasing our new home.
Grazie Mille,
Sheri Fanter
"Ongelooflijke attitude en klantvriendelijkheid"
'In 2018, in onze zoektocht naar een vakantiewoning in Italië, vonden wij toevallig een huurwoning die te koop was, het leek een droom. Wij boekten een vlucht naar Italië om naar dit huis te gaan kijken. We hadden een afspraak met een bekende huizenverkoper maar het vertrouwen was er niet en wij zagen af van de koop. Wij bekeken dat weekend enkele huizen te koop via bekende grote immokantoren, de service was afstandelijk, ongeïnteresseerd en niet naar werkelijkheid. Toevallig kwamen wij in contact met Nick van Abode. Carla en Nick bereidden enkele huisbezoeken voor ons voor. Nick was recht voor de raap en stelde soms al eens ongemakkelijke vragen in functie om ons de meest geschikte huizen te laten zien. In tegenstelling tot de andere afstandelijke immoverkopers verwachtte hij dat wij met hem in zijn auto mee zouden rijden om zo zijn eventueel toekomstige klanten te leren kennen. Ik herinner mij dat hij zei:"Carine, why would you buy a house in Italy?" Hij vond heel snel het juiste huis voor ons maar de prijs lag boven ons budget, hij contacteerde de verkoper en maakte de juiste deal voor zowel ons als de verkoper. Maar dan begon ons Abode-Verhaal maar pas, de maanden erna kwamen wij terecht in een rollercoaster van emoties en beslissingen, dat is zo als je eigenlijk alleen maar op zoek was naar een huurhuis en dan plots eigenaar wordt van je eigen vakantiehuis. In België kregen we constant raad om een advocaat te nemen om ons te begeleiden in de koop, maar dit is met Abode helemaal niet nodig, wij namen geen advocaat omdat het vertrouwen er van in het begin was en wij werden zoals kleine kindjes door heel het proces begeleid. Carla nam al de administratie op haar en het is bewonderenswaardig hoe zij je laat voelen alsof je haar enige klant en bezorgdheid bent terwijl zij het zo druk heeft. Wij houden echt van haar en haar ongelooflijke attitude en klantvriendelijkheid. Zelfs als onze zoon in juli 2019 heel ziek werd in ons huis in Italië, en hij niet wist waar naartoe en zijn situatie niet kon uitleggen in het Italiaans, belden wij Carla voor raad en heeft zij ons vlekkeloos begeleid naar het ziekenhuis. Waarvoor wij haar dankbaar blijven. Ondertussen zijn we vertrouwd met het idee dat wij een prachtige "casale" gekocht hebben in Umbrië, wij hebben enkele leuke Italiaanse vrienden gemaakt en voelen ons al helemaal geintegreerd. We hebben tot op heden nog geen seconde spijt gehad van onze aankoop via Abode en hopen nu dat het Coronavirus snel onderdrukt wordt, zodat we snel weer terug naar onze 2e thuis kunnen gaan. Als je van plan bent zorgeloos een huis te kopen in Italië, durven wij Abode zeker aanraden, ze begeleiden je stap voor stap van huisbezoeken, tot het ondertekenen van de akte bij de notaris tot zelfs het omzetten van de contracten van de nutsvoorzieningen etc. Dit alles zonder enige verrassingen. Een aanrader!'
Carine en Jan Franckx - Vanreusel